"Sunrise To Sunset"- November polish
$

12.50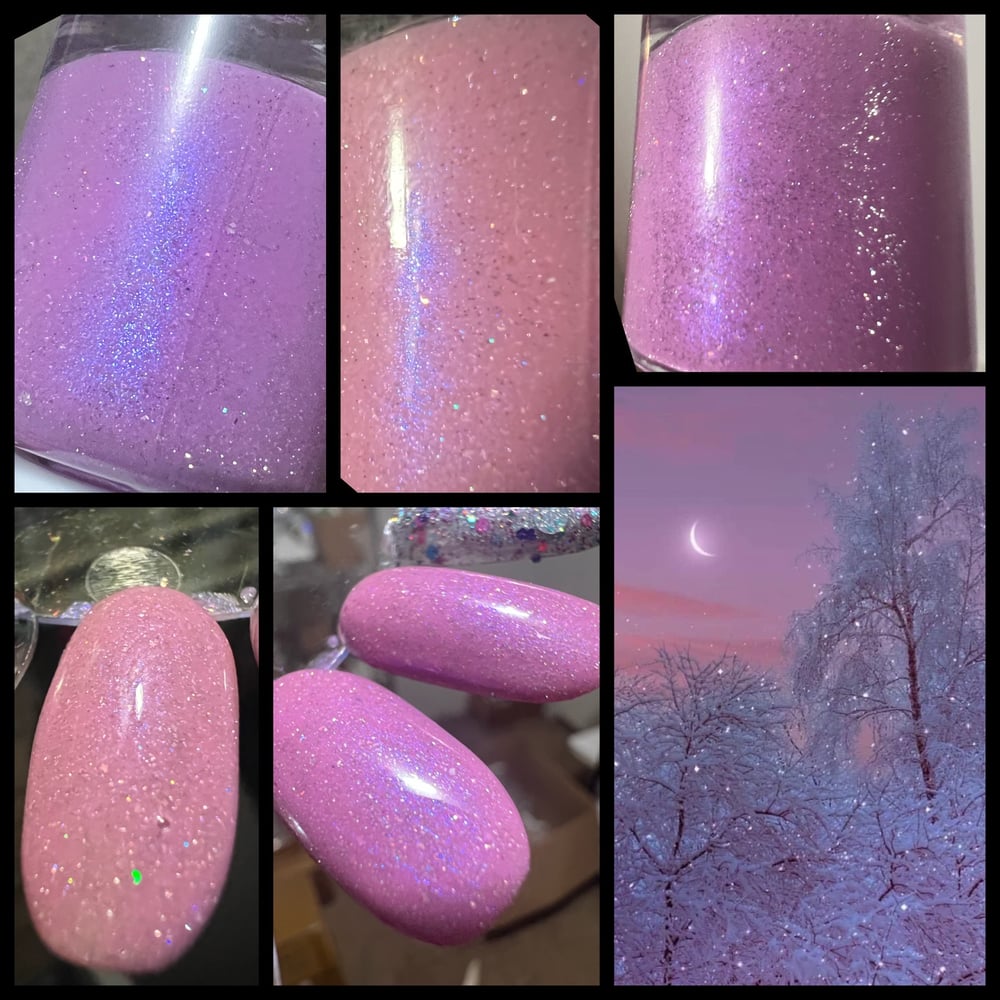 ***Swatch pics coming soon!***
*** Every month I create a special duo of polishes based upon inspiration pictures submitted through and voted on in my Facebook group. You don't have to be a group member to order the monthly duo, but if you'd like to take part in the creation of future duos, please join at www.facebook.com/groups/HeathersHueTpies
November's theme is 'Celebrate" and the duo includes "Sunrise to Sunset" and "Baubles"
This listing is for the individual bottle of "Sunrise to Sunset"
"Sunrise to Sunset" is a sheer pink crelly with a blue-violet to pink shimmer. It's filled with a mix of silver holo glitters, flakes, and micro-shreds as well as silver reflective glitters.
FOR MORE PICTURES, VISIT WWW.FACEBOOK.COM/GROUPS/HEATHERSHUETPIES
All of Heather's Hues polishes are vegan, cruelty-free, and 5-free. means that they do NOT contain 5 of the harsh toxic chemicals that many mainstream polishes do. The 5 nasty chemicals that are NOT in H.H. polishes are DBP, toluene, formaldehyde, formaldehyde resin, and camphor.
The following ingredients are in all Heather's Hues polishes:
butyl acetate, ethyl acetate, nitrocelluose, adipic acid/neopentyl glycol/trimellitic anhydride copolymer, acetyl tributyl citrate, isopropyl alcohol, stearalkonium bentonite, acrylates copolymer, styrene/acrylates copolymer, silica, n-butyl alochol, benzophenone-1, benzophenone-3, trimethylpentaediyl dibenzoate. Each bottle also contains two stainless steel mixing balls.
HH polishes may also include FDA approved colorants, PET glitters, mica and/or flakies, silica, calcium sodium silicate, aluminum, tin oxide, iron oxides, FD&C lakes, D&c lakes, iron blue, manganese violet, titanium dioxide, ferric ferrocyanide, ultramarines; Holographic polishes may contain holo dust, a Spectraflair alternative, or Spectraflair.
IF YOU HAVE QUESTIONS ABOUT THE INGREDIENTS OF A SPECIFIC POLISH, PLEASE DO NOT HESITATE TO CONTACT ME! I can be reached by direct message on my Facebook and Instagram as well as by email. My email address is HLW117@comcast.net.
I always use the highest quality cosmetic-grade ingredients from reputable suppliers for my polishes. Each and every polish is hand-mixed by me personally in a clean and sanitary environment. Almost every polish is made to order. I usually only mix lar&;ge batches of polish a day or two prior to new collection releases.
Indie polishes are quite different from mainstream polishes. They are made and bottled with love! You'll find there is many more beautiful options when it comes to types of indie polishes. There are also some helpful hints that apply to indie polishes. First, you should always let your bottles of polish reach room temperature before opening them (especially in cold weather months). Next, please ALWAYS use 2 or more coats of a quality basecoat before applying polishes. ***DUE TO THE HIGH PIGMENTATION OF SOME POLISH COLORS, NAIL STAINING MAY OCCUR*** (This is why using a quality basecoat is so important). Also, you may find it helpful to set your bottle of polish upside down for about 10 minutes before use, then roll it around in your hands. ***SOME OF THE HEAVIER GLITTERS MAY SETTLE TO THE BOTTOM OF THE BOTTLE*** This is why the upside-down trick is helpful...it will reduce the amount of fishing for glitters, especially the heavy glitters. A quality topcoat is also recommended to help deter wear to your polish and smooth out large glitters. Finally, please feel free to offer feedback to me. As an indie maker, I love to hear what my customers love, don't like, would like more/less of!! You can always email me at HLW117@comcast.net, message me through Etsy, on Facebook at Heather's Hues or my Facebook group Heather's HueTpies, and on Instagram @heathers_hues.....please don't hesitate to contact me with questions or concerns!!