Fluffer Butter
$

10.00 -

$

19.00
Sold out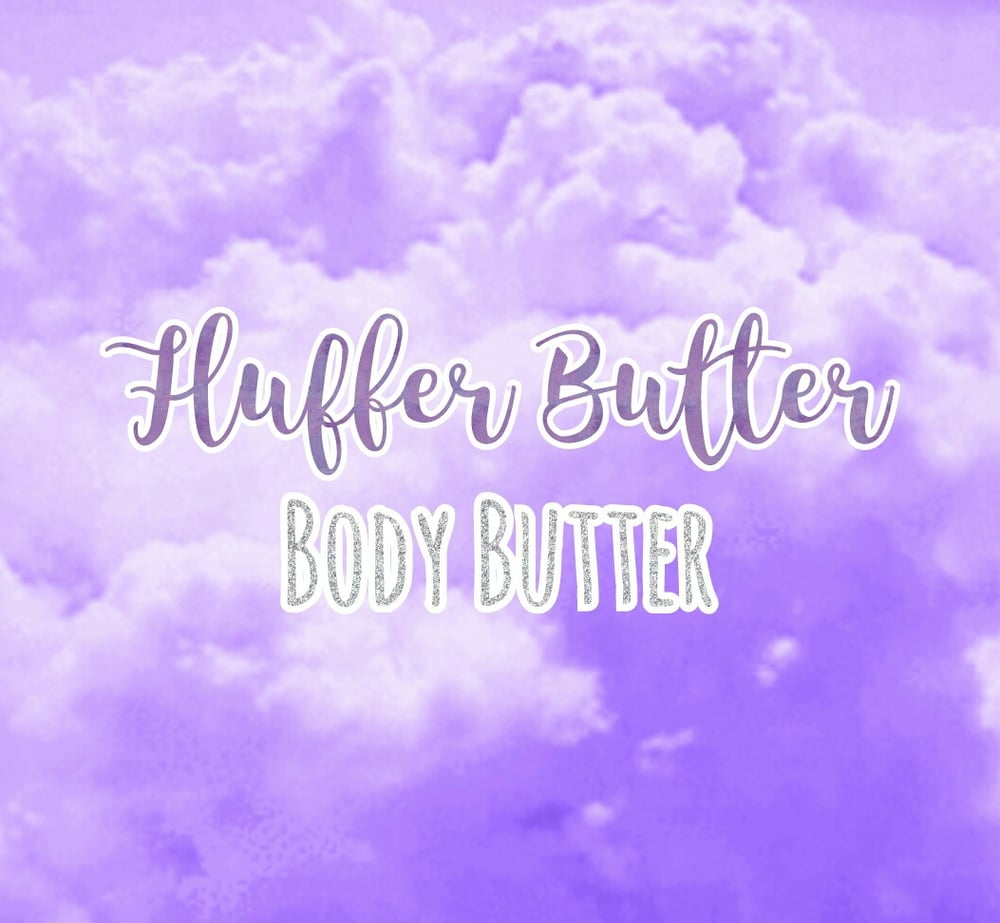 Heather's Hues "Fluffer Butter" is a fluffy whipped body butter. It's packed with natural ingredients that nourish your skin and form a protective barrier to seal in moisture. It leaves your skin feeling so soft and healthy, perfect for year round and especially during the cold winter months! Use Fluffer Butter body butter with WiTS Lotion for extra moisturization.
Please select whether you'd like a two ounce or four ounce jar.
***CONTAINS OILS DERIVED FROM SEEDS/NUTS***
Fluffer Butter body butter contains shea butter, coconut oil, chia seed oil, avocado oil, apricot kernel oil, sweet almond oil, jojoba oil, kukui nut oil, vitamin E, rosehip oil, arrowroot powder, and skin-safe fragrance. Please store Fluffer Butter in a cool place and use within 8-12 months as the natural ingredients do have a shelf life.
***NEW***
*Green Clover & Aloe: a fresh, green unisex scent reminiscent of wild summer herbs growing in a field; a combination of fresh citrus and jasmine petals on a woodsy, sweet musk background
*Huckleberry Harvest: a fruity and sweet blend of blueberry with raspberry, grape, strawberry and peach
*Lemon Curd: a blend of zesty and sweet citrus aromas over vanilla bean, sugar crystals, and amber
*Lord of Misruling: A mysterious, unisex scent comprised of rich patchouli and warm sandalwood over a blend of citrus, vetiver and kisses of black pepper
*Magnolia in Bloom: a complex, sexy magnolia scent with top notes of mandarin, ylang ylang, grapefruit, freesia, and hyacinth; middle notes of tuberose, magnolia, plum, and lily, all on a base of white musk and vanilla bean
*Peeps: a yummy blend of buttercream and vanilla bean are folded into fluffy white marshmallow and sweet sugar
*Pink Lilac + Willow: a beautiful floral scent with top notes of calming lilac, middle notes of leafy green, and base notes of lily of the valley and rose
*Purple Hoots: a wonderful blend of lemon, grapefruit, lime, strawberry, raspberry, and chambord liquor over a base of greenery and paperwhites
*Rain Barrel: fresh watery notes, crisp ozone and highlights of lemon blend with leafy greens over a balance of lavender and warm cedar wood with amber and clear musk undertones
*Sakura: a beautiful blend of Japanese cherry blossom with orange citrus, green flower and tiny hints of cedarwood and musk
*Suede + Peony: top notes of lemon zest, apple blossoms, and fresh spring air, mid notes of gardenia, rose, and peony, all rounded by a base of subtle blush suede, patchouli, and sheer musk
*Sweet Pea and Vanilla: a blend of ripe red raspberry, bing cherries, juicy peach and orange kissed with floral sweet pea and iris over a sweet creamy coconut vanilla base
CORE SCENTS/BEST-SELLERS:
*90's Hair- a fun and feminine scent bursting with notes of apple, lily, and rose; it will whisk you right back to the 90's when you first washed your hair with that 'herbal' shampoo
*Baby Powder- a delightfully fresh baby powder scent
*Balance and Glow- delicate honey blossoms kissed with sunny citrus blends, infused with lavender, echinacea blooms, and ribbons of raw vanilla and honeycomb
*Blueberry Tea- A sweet and clean scent; strong and sugary blueberries mixed with freshly brewed tea
*Cake By The Ocean- A scrumptious buttercream and vanilla cake scent that literally makes me drool!
*Cherry Bomb- a black cherry fragrance that is strong and perfectly sweet
*Crazy for Coconut- A sensual blend of sweet coconut, vanilla, and a touch of lily of the valley
*Dragon's Blood- a tantalizing blend of dragon's blood, myrrh, patchouli kissed with jasmine and woody musk
*Fresh Linen- a classic clean and fresh scent
*Maple Leaf- an alluring scent of sweet maple syrup blended with warm vanilla and creamy butter
*Stress Relief- a perfect fragrance to calm your nerves and clear your mind; a blend of eucalyptus, spearmint, lavender, and sage with hints of fresh ozone
*Vanilla Bean Noel- a rich, sweet vanilla sugar cookie with a slightly roasted marshmallow background and a hint of caramel
*Watermelon- sweet and juicy, just like the favorite summertime fruit
All of Heather's Hues polishes are vegan, cruelty-free, and 5-free. This means that they do NOT contain 5 of the harsh toxic chemicals that many mainstream polishes do. The 5 nasty chemicals that are NOT in H.H. polishes are DBP, toluene, formaldehyde, formaldehyde resin, and camphor.
The following ingredients are in all Heather's Hues polishes:
Nitrocelluose, ethyl acetate, butyl acetate, isopropyl alcohol, ethyl alcohol. Each bottle also contains two stainless steel mixing balls.
HH polishes may also include FDA approved colorants, PET glitters, mica and/or flakies, silica, calcium sodium silicate, aluminum, tin oxide, iron oxides, FD&C lakes, D&c lakes, iron blue, manganese violet, titanium dioxide, ferric ferrocyanide, ultramarines; Holographic polishes may contain holo dust, a Spectraflair alternative, or Spectraflair.
IF YOU HAVE QUESTIONS ABOUT THE INGREDIENTS OF A SPECIFIC POLISH, PLEASE DO NOT HESITATE TO CONTACT ME! I can be reached by direct message on my Facebook and Instagram as well as by email. My email address is HLW117@comcast.net.
I always use the highest quality cosmetic-grade ingredients from reputable suppliers for my polishes. Each and every polish is hand-mixed by me personally in a clean and sanitary environment. Almost every polish is made to order. I usually only mix large batches of polish a day or two prior to new collection releases.
Indie polishes are quite different from mainstream polishes. They are made and bottled with love! You'll find there is many more beautiful options when it comes to types of indie polishes. There are also some helpful hints that apply to indie polishes. First, you should always let your bottles of polish reach room temperature before opening them (especially in cold weather months). Next, please ALWAYS use 2 or more coats of a quality basecoat before applying polishes. ***DUE TO THE HIGH PIGMENTATION OF SOME POLISH COLORS, NAIL STAINING MAY OCCUR*** (This is why using a quality basecoat is so important). Also, you may find it helpful to set your bottle of polish upside down for about 10 minutes before use, then roll it around in your hands. ***SOME OF THE HEAVIER GLITTERS MAY SETTLE TO THE BOTTTOM OF THE BOTTLE*** This is why the upside-down trick is helpful...it will reduce the amount of fishing for glitters, especially the heavy glitters. A quality topcoat is also recommended to help deter wear to your polish and smooth out large glitters. Finally, please feel free to offer feedback to me. As an indie maker, I love to hear what my customers love, don't like, would like more/less of!! You can always email me at HLW117@comcast.net, message me through Etsy, on Facebook at Heather's Hues or my Facebook group Heather's HueTpies, and on Instagram @heathers_hues.....please don't hesitate to contact me with questions or concerns!! Xo